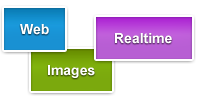 Web search, Image search and Realtime search
Entireweb combines three of the most popular search types, to provide you with a search engine that explores both regular web pages, images and social media sites. All three are differentiated using colors, making it easy for you to recognize what search type you are using.
Wikipedia

With an endless source of information, Wikipedia has become an important factor online. That's why we include Wikipedia results just next to the regular web results. This comes in handy when searching for e.g. brands, places or other facts.

Twitter

Today, a lot of people use Twitter to share their opinions, ideas and findings online. This means that Twitter can give you some of the most up-to-date information and make your search experience even better.


Change skin - Search the web in style
With a wide variety of skins to choose from, you can make Entireweb personal — and search the web in style!
Search from your favorite browser

Search with Entireweb directly from your browser - Click here to install the add-on!

Entireweb Mobile

On the move? Point your handheld device to entireweb.com to experience the mobile version of the search engine.